Reading Broad Street support for cycling ban lift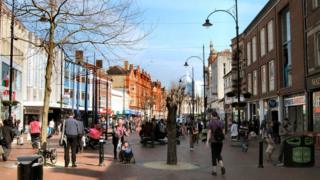 A cycling ban in a pedestrianised shopping street in Reading is set to be lifted after consultation results showed strong support for the idea.
It comes after hire bike racks were added to Broad Street West, even though that stretch of road currently has a cycling ban.
However, cycling has not been banned in the east part of Broad Street.
Out of 1,283 responses, 796 were in favour of the ban in the west half being lifted.
Other results of the informal online consultation showed 448 in favour of not allowing cycling in Broad Street at all and 39 opting for no change to the current arrangements.
Reading Borough Council transport head Tony Page said: "I don't believe the current situation where cycling is allowed in one half of Broad Street and banned in the other is sensible."
Councillors will now be asked to approve a formal public consultation at a traffic management committee meeting on 14 January.