Reading train station escalator fall leaves 'pile of bodies'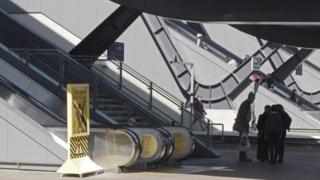 Rail commuters ended up in a "pile of bodies" after falling from an escalator at Reading train station.
Up to 40 people were climbing the stationary escalator at about 07:30 GMT when it began to move backwards, commuter Tim Barbrook said.
Some of the roughly 15 people who fell said they sustained cuts and bruises. Network Rail is investigating.
Last year extra safety measures were put in place at the station after dozens of injuries on escalators.
Between April 2013 and July 2014, two passengers suffered dislocated shoulders while others sustained cuts and bruises.
Mr Barbrook, 36, from Streatley, said: "We were queuing to get up a stationary escalator on platform 15 to walk up what appeared to be a turned-off escalator.
"There were probably about 30-40 people on it with another 100 waiting at the bottom.
"The escalator started to move backwards and as a result about 10-15 people fell from the escalator to the bottom and there was a pile of bodies with some personal items like glasses trapped in the bottom.
"At one point I thought a lady's hair was trapped."
Jacob Griffiths said on Twitter he had sustained cuts and bruises to his legs "after being crushed by people falling".
Lara Whatling witnessed the fall which she described as "horrific", adding: "Escalator that was broken then started going backwards cos [sic] of weight".