Berkshire 'still at risk of major flooding' after 2014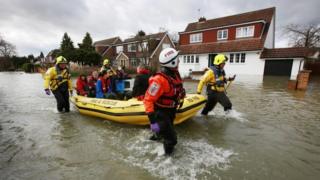 Berkshire is still at risk of major flooding two years after hundred of homes were evacuated when water levels rose, a councillor has warned.
In 2014 homes were evacuated after areas of England flooded.
Councillor Colin Raynor of the Royal Borough of Windsor and Maidenhead said: "If we had similar weather conditions we would be as flooded as last time."
The Environment Agency said the £302m River Thames Scheme was "moving along well".
Mr Raynor, who lives and works as a farmer in Wraysbury, said he believed the scheme is still 10 years away.
"We haven't seen any spending on our flood defences.
"They made lots of promises and we are waiting for work to be done."
'Feel sorry for north'
David Murphy, programme director of the River Thames Scheme, told BBC Radio Berkshire last month "the scheme from Datchet to Teddington is moving along really well".
He said: "It is a major investment, over £300m to put in flood channels to convey the water down the river.
"There is a lot of work that's going on, it is a major engineering project so a lot of studies need to be done.
"We want the scheme to be delivered as quickly as possible."
There are amber flood warnings in place for Berkshire.
Concerns in the county follow wide-spread flooding in the north of England after storms Desmond and Frank.
Mr Raynor said: "I feel sorry for them up north as they had a lot more flooding than we did in Wraysbury."
'£50m still needed'
MP for Newbury Richard Benyon said: "Enormous amounts of public money has been spent in my constituency and other parts of Berkshire."
The Environment Agency said the River Thames Scheme will mostly be funded by the government but £50m of "urgent contributions" are required.
If planning consent is given the organisation aims to start construction in 2020.