Reading attack: Man stabbed with two kitchen knives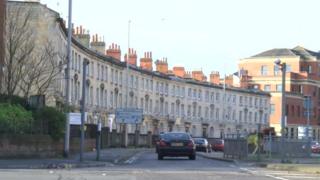 Two attackers are being hunted after a man was stabbed in the street with two kitchen knives in Berkshire.
Police found the stabbed man, aged in his 20s, close to the junction of Sidmouth Street and Queens Road, Reading, at about 16:50 GMT on 26 December.
He was taken to hospital where he is being treated for injuries, which are not thought to be life-threatening.
Detectives said they did not believe it was a random attack.
The first suspect is described as a black man, in his 20s, about 5ft 6ins and wearing a black puffa-style jacket and an army-style tracksuit.
The second man is black and wearing a dark blue Adidas tracksuit and Nike trainers.