Emergency sewer repairs start on Reading shopping street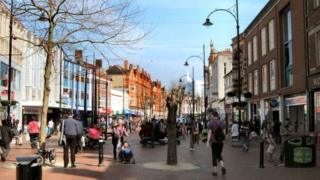 Emergency sewer repair work has started in a bid to prevent one of Reading's busiest shopping streets becoming "flooded with sewage".
Thames Water said it has been forced to dig up part of Broad Street near its junction with Queen Victoria Street to protect nearby businesses.
A CCTV survey of a sewer pipe under the street has revealed that a damaged section is leaking waste water.
Company networks manager Karen Nelson said work had to begin "immediately".
She said: "We know this is a bad time to be digging up a busy shopping street, but this job has to be started immediately or businesses could become flooded with sewage.
"Clearly no one wants that, especially around Christmas time, so it's vital we get the sewer pipe repaired quickly.
"We've visited and written to the retail outlets close to our site to explain about the work and reassure them we'll cause as little disruption as we possibly can."
The Thames Water team will have to dig to a depth of about 5m by hand to reach the damaged pipe before they can repair it.
The work is expected to take six to eight weeks.