Civic Centre in Reading to be demolished in February, council estimates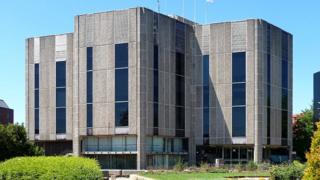 A well-known 1970s building in Reading is to be demolished in February after laying empty for more than a year.
The Civic Centre by Queen's Walk was vacated by Reading Borough Council in December last year.
The building had become too expensive to maintain, partly because of asbestos in parts of the centre.
A council spokesman said removing the asbestos would "continue until February at which point we hope to start physical demolition of the building".
He added: "Over the past year the contractors have been stripping the old offices of asbestos.
"This is specialist work needs to be done section by section for safety purposes, which is why it takes time."
The council now operates from new offices in Bridge Street in what was a £25m move - compared with £100m of refurbishment work that would have been needed to modernise the 15-storey centre.
No decision has been made yet on what to do with the site, though the council said it would form part of a major regeneration of the wider area.