'Illegal' parking tickets in Windsor 'need to be refunded'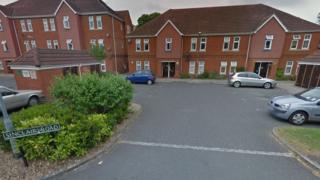 A housing association must give refunds for "illegal" parking tickets issued on a public road, a council has said.
Drivers have been issued with £100 fines for parking in Sinclair Road, Windsor.
Radian Group, which manages the development, said residents complained their road was being used as a car park for a nearby hospital.
But the Royal Borough of Windsor and Maidenhead council said the association had no rights over the public highway.
Colin Rayner, council member for highways and transport, said: "They need to refund our residents and they need to do it now.
"They are ticketing people on a road that belongs to the council, plus the residents. It's 100% illegal, they have no right.
"[Residents] haven't contacted the council, we haven't had problems with residents complaining about antisocial behaviour."
Resident Douglas Graham said three friends who visited him received tickets, and he thinks many people could have paid out of fear of their fines being increased.
He said: "I'm sure hundreds of people would have paid the tickets and didn't even realise that they were issued illegally.
"Basically they've been ripping people off."
A Radian spokesperson said residents complained about the "disturbance and nuisance" caused by people parking to visit King Edward VII Hospital.
She said: "We have taken this action under the understanding that our lease agreement for the land in and around the properties, including the road, requires us to deal with any disturbance or nuisance.
"We would be very happy to talk to the local authority directly if they have a different understanding.
"If any resident believes that they have been wrongly ticketed, they should contact us as soon as they can."