Firestation arts centre in Windsor will not close despite rumours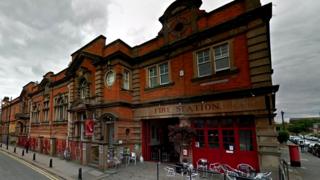 An arts centre in Windsor at the centre of closure rumours will definitely stay open, councillors have assured.
There was confusion over The Firestation's future as councillors discussed the lease of the events provider, which is due to end in March.
The Royal Borough of Windsor and Maidenhead confirmed there would always be an arts centre in that building, in the Old Court, St Leonard's Road.
The lease of the current events provider has now been extended.
'Shocked and disappointed'
The Firestation opened in the Old Court in 2008 and is on its third lease.
The centre's managing director Dan Eastmond was told at a meeting last week that councillors were looking for other tenders "to test the market" once the lease given to the Firestation Arts & Culture Community Interest Company runs out in March.
Following concerns from Mr Eastmond and residents, the council has now decided to extend the Firestation's lease until September to allow more time for "a formal procurement process to take place".
The authority said there would be no loss of arts in the local community.
Councillor Claire Stretton, principal member for culture and communities, said: "We have no intention whatsoever of closing the Old Court, or of relocating arts provision elsewhere."
She added it was "only right" to explore other options to make sure residents were satisfied with the events and activities the arts centre currently provides.
Mr Eastmond said: "I am pleased that the borough has decided to adopt a more reasonable timetable and heartened to see the community vocalising the importance of what we do here so passionately.
"I remain shocked and disappointed by the decision to go out to tender, but at least now there is time for the process to be run fairly."