Reading bikers take to the roads to give out presents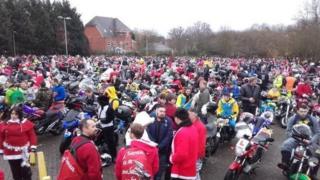 More than 1,500 bikers dressed in Santa suits and fancy dress have taken to the road to hand out Christmas gifts.
Several road closures were in place for the Reading Toy Run, between the Foster Wheeler building near the Black Boy Roundabout and the middle of Wokingham at 14:00 GMT.
The festive two-wheel event is celebrating its 30th anniversary.
Last year, the event got into the Guinness Book of Records when 1,735 bikers took part.
However, organisers said the anniversary event was not aiming for another record.
Founder Ben Spiller said: "The first time we did this event I think 18 motorcyclists turned up.
"Motorcyclists are big kids anyway, and they want to do their bit, and there's thousands of kids in this country that are underprivileged."
Large crowds gathered along the route, along with 144 marshals, to watch the 1,565 bikers and their 476 passengers.
The gifts, donated by all participants, will be distributed by children's charity Barnardo's.
There were early concerns that the event, which is run by the Reading Christian Bikers, could take place during blustery conditions.