Three major Berkshire fires 'accidental or cause undetermined'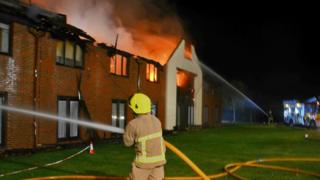 Three major fires in Berkshire last month were either accidental or the cause was undetermined, fire investigators have concluded.
The blaze at Wokefield Park hotel in Mortimer spread to the roof while the fire at the Reading Lake Hotel had started in the roof.
Fire damage to NEP Visions in Bracknell was so severe Berkshire fire service officers could not confirm a cause.
They said damage in all three would have been reduced by sprinklers.
The Wokefield Park fire, on 12 November, broke out in a ground floor linen area.
The hotel, made up of an 18th Century building and modern executive centre, sits in 250 acres of land and has a championship golf course.
The Royal Berkshire Fire & Rescue Service (RBFRS) said the cause, due to "smoking materials", was accidental.
A blaze broke out at the Reading Lake Hotel, Pingewood, close to the M4, on 21 November.
The service concluded it was also accidental, being "related to an electrical fault".
The fire on 3 November at TV production company NEP Visions Ltd at the Western Industrial Estate in Bracknell destroyed the building, and broke out shortly after 22:00 GMT.
Investigators said: "Due to the extent of the damage to the interior and contents of the building, the cause could not be determined."
Chris Bunyan, group manager for protection at RBFRS, said: "Effective fire safety systems were in place in all of these buildings, leading to the safe evacuation of people at all three incidents.
"However, had sprinklers been fitted in these buildings, the extent of the fire and the subsequent damage would have been greatly reduced. "