Reading railway underpass link opened to public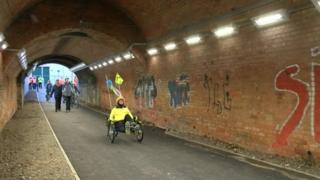 An underpass linking a residential area to Reading town centre has opened, cutting up to a mile off the route for pedestrians and cyclists.
The tunnel under the railway line, between Napier Road and the town centre, is on Network Rail land and has never been open to the public.
Reading Borough Council agreed a deal to create the link and installed CCTV and a pedestrian crossing.
It said opening the tunnel had been a "long-standing ambition".
Planning councillor Tony Page said: "The route under the railway line will be of major benefit to Reading residents, providing direct and well-lit pedestrian and cycle access to and from the town centre, east Reading and Caversham.
"This is the first time that there has ever been public access through this historic tunnel."
The new path also provides a link to the River Thames and Caversham from the town centre.
The £500,000 funding came from developer contributions and the Government's Local Sustainable Transport Fund.