'Serious fire' breaks out at Reading Lake Hotel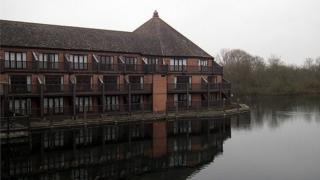 More than 50 firefighters have tackled a "serious fire" at a lakeside hotel in Reading, the fire service said.
The blaze broke out at Reading Lake Hotel, Pingewood, which is close to the M4, at about 11:40 GMT.
It is believed the fire started in the roof of the building, next to the 33-acre (13-hectare) lake, but an investigation is under way.
Ten fire engines were sent to the scene but there were no reports of any injuries.