Reading's houses of multiple occupation 'ruining streets'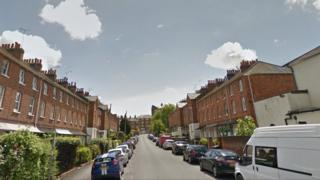 Measures to curb numbers of houses of multiple occupation (HMOs) in Reading's conservation areas are being considered by the council.
Residents complained of the "blighting effect" of family houses being converted into single-room lets.
Currently, only exterior features of a house are protected but residents also want the same for interiors.
Reading Borough Council is to consider restricting landlords' house development rights.
If voted through, the change will mean planning permission is required before any conversion takes place.
'Rapid spread'
Census information shows the Castle Hill and Russell Street conservation area has a relatively high proportion of HMOs, which is having a "detrimental impact on the area", the council said.
In particular, Jesse Terrace has been earmarked as a street that needs protection.
The Baker Street Area Neighbourhood Association, which represents these streets, said Jesse Terrace residents were "alarmed" by the "rapid spread of HMO development".
Issues raised include the loss and alteration of front walls to provide off-street parking and poor quality of new developments.
Councillors at the next Strategic Environment, Planning and Transport committee meeting are likely to approve the creation of a direction "to remove permitted development rights to convert property into HMOs".
They will also consider a pilot review of the Castle Hill and Russell Street areas to use as a template for reviews of other conservation areas.