Reading council reveals rise in families housed in B&Bs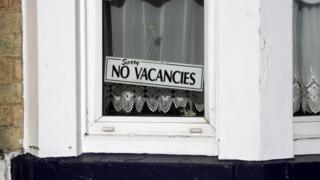 The number of families housed in bed and breakfast accommodation increased almost tenfold in three years, a council has revealed as it launches a new homelessness plan.
In March 2012 there were 18 households in such accommodation, but by March this year it had risen to 160.
Reading Borough Council is discussing a new five-year plan to tackle the issue.
Measures proposed include building new council homes, starting a housing company and using private rented homes.
A report due to be discussed by the housing, neighbourhoods and leisure committee on 18 November said: "The number of households owed a full legal homelessness duty for the council to secure their accommodation increased from 80 in 2011/12 to 218 2013/14.
"This number is predicted to increase to over 450 in 2015/16."
The report also states: "One impact of this increased number of homelessness applications has been a significant increase in the use of emergency accommodation and in particular the number of households living in bed and breakfast accommodation."
One of the main reasons for people being made homeless in the town is evictions from private accommodation, the council said.
Other measures proposed to reduce homelessness by 2020 include:
A plan to build 18 new modular homes on at Lowfield Road, Caversham
Empty flats in Dee Park are being brought back into use for homeless families until they are demolished in 2017
Providing more housing advice for residents
Establish a housing company owned by the council which would let properties at full market rent to subsidise others rented below this rate
Plans to build 40 homes in Conwy Close, Tilehurst