Reading University plans 'Biggles' WW1 hall demolition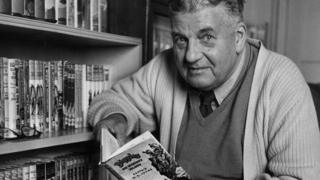 A charity is trying to stop the demolition of a hall once used by air cadets including a pilot who went on to create the WW1 flying ace Biggles.
The Victorian Society has launched the campaign on Armistice Day to try to stop Reading University from knocking down St Patrick's Hall.
Former cadet William Earl Johns is though to have based the book Biggles Learns to Fly on his time there.
The university says it is reaching the end of its "operational design life".
Important role 'forgotten'
It held a week-long consultation in October on plans to knock down St Patrick's Hall and build a new student complex of 1,000 rooms on or near Whiteknights campus.
Reading University says the existing halls, located on Northcourt Avenue, no longer reflect the needs and expectations of the 300 students it currently houses.
In a statement, the university said St Patrick's Hall was not a "museum piece" but "home to hundreds of students".
It said: "What was appropriate for air cadets in the First World War is inappropriate for students in the 21st Century, who rightfully expect high standards."
The Victorian Society said the proposed redevelopment was "especially poignant" as 2015 marks the centenary of the establishment of the No 1 School of Military Aeronautics in the university's buildings.
Alex Bowring, the society's conservation adviser, said the hall was designed by C Smith & Son, the same architect as Reading University's listed Great Hall and Wantage Hall.
"Unlike these buildings, St Pat's has not received the same recognition as a key part of the university's early development," he said.
"The important role it played in World War One has also been largely forgotten."
The Story of Biggles
James Bigglesworth, nicknamed "Biggles", is a fictional pilot and adventurer, in a series of books written by WE Johns
Capt WE Johns fought in the trenches in World War One and joined the Royal Flying Corps, before being shot down in a bombing raid and imprisoned by the Germans
He became the editor of Popular Flying magazine in the early 1930s but after finding published stories about flying "unrealistic" decided to start writing his own
Biggles first appeared in the story "The White Fokker" in 1932 and eventually featured in almost 100 books, covering adventures in two world wars and beyond
He first took to the skies in 1916 in his FE2 'pusher' and made his final descent, 50 years later, in a Hawker Hunter