A study finds Berkshire needs to build almost 5,000 new homes every year until 2036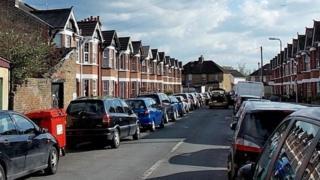 Berkshire councils have reacted to a study which shows the county needs 4,900 new homes every year until 2036.
Reading councillor Tony Page said it was "no surprise" 699 new homes were needed annually in the town according to the strategic housing market assessment.
The town will campaign for new and affordable social housing.
Slough council said there were few "clear sites" where homes could be built as the town was densely urban.
The authority has been asked to build 927 homes per year, the most of any local authority in Berkshire.
'Disappointed' by target
It almost doubles the 550 homes annual target Slough Council is already committed to.
Windsor and Maidenhead said it was "disappointed" by its 712 homes target, which would be "difficult to achieve".
Councillor Derek Wilson, cabinet member for planning, said constraints such as the green belt, Crown Estates and flood plains meant the council would have to hold discussions with neighbouring authorities in order to increase potential housing.
West Berkshire Council said it had a number of constraints which would make it challenging to reach its 655 homes annual target, including an area of outstanding natural beauty and significant flood plains.
However, councillor Alan Law said the authority wanted to provide enough housing for local people, especially key workers and aspiring first-time buyers.
Bracknell Forest Council said it would consult the public on the proposals and how to support its growing population.
The strategic housing market assessment is a technical look at how many homes may be needed, and is intended to be the starting point for a wider discussion.
---
The study suggests the following split of homes per year in Berkshire and neighbouring South Bucks
•Bracknell Forest: 635
•Reading: 699
•Slough: 927
•South Bucks: 376
•West Berkshire: 665
•Windsor and Maidenhead: 712
•Wokingham: 856
---