Tributes paid to Professor Alexei Likhtman of University of Reading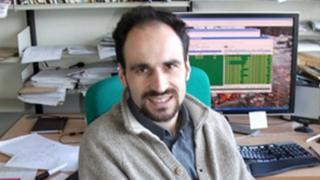 A UK university professor, who died after falling on rocks on a US hiking trail, was a "leading light" in his field, colleagues have said.
Prof Alexei Likhtman, 44, of the University of Reading, died on Sunday on the Appalachian Trail in Maryland.
Head of physical sciences at Reading University, Prof Simon Chandler-Wilde, said he was an "outstanding, internationally renowned physicist".
Prof Likhtman was married with two adult daughters.
He died after falling 40ft-50ft (12m-15m) while taking photographs at Annapolis Rock.
'Great colleague'
Dr Daniel Read, who worked with him at Leeds University, described him as "a lovely guy".
"Within the world of soft matter physics he was very well known - one of the leading lights in our field."
Another former colleague, Prof Tom McLeish of Durham University said: "Alexei was one of those wonderful people who embodies the important truth that just because something is obvious, doesn't make it true. Alex would challenge every idea that we had - including the ones that we thought were obviously true."
Prof Chandler-Wilde said: "He was one of the leading polymer physicists of his generation - he was just a great colleague."
Prof Likhtman, who lived in Lower Early, was in the US for a conference in Baltimore and was visiting the beauty spot with with one of his PhD students when he fell.
Lt Art Windemuth of Maryland Natural Resources Police said: "No foul play is suspected.
"This section is traversed by thousands of people every year. Injuries are relatively uncommon."