Gallipoli hero Fred Potts statue erected in Reading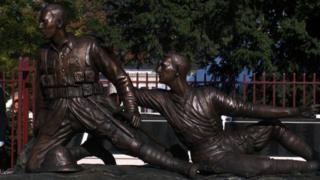 A statue of a World War 1 soldier who saved a comrade's life and won the Victoria Cross has been unveiled.
Fred Potts rescued Arthur Andrews during the Gallipoli campaign in 1915. The Trooper Potts VC Trust has campaigned for a statue for five years.
It raised £150,000 for the memorial to Reading's only Victoria Cross recipient.
The statue was officially unveiled by the Lord Lieutenant of Berkshire and TV host Chris Tarrant in the town.
'Hid in trenches'
The campaign has had support from Tarrant and the grandchildren of both WWI soldiers.
They were injured during the campaign in August 1915 and hid below the Turkish trenches for two days.
Eventually Trooper Potts, who had been shot in the thigh, used a shovel as a sledge to drag badly-injured Trooper Andrews to safety.
A total of 350 people were invited to attend the unveiling outside Forbury Gardens.
The life-sized statue was made by sculptor Tom Murphy in Liverpool.
Richard Bennett, chairman of the Trooper Potts VC Trust, said: "It is about having hope, and a lot of hard work.
"It's one of the most complex things I have ever done, and I used to work for the MoD."
Tarrant said: "It has taken 100 years. He is our only Victoria Cross recipient in Reading, we should have done something sooner.
"It is great for the families as they have gone through this as well.
"I came on board as I just thought we should get this thing built."