Royal Family attends Order of the Garter service in Windsor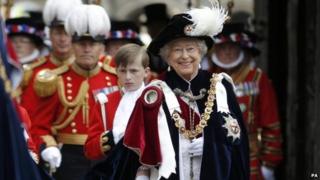 Hundreds of people have lined the streets of Windsor to see members of the Royal Family at the Order of the Garter service.
The Queen, the Duke of Edinburgh, the Prince of Wales and the Duke of Cambridge were among those who attended the annual ceremony at Windsor Castle.
Crowds watched the Garter Knights, wearing velvet robes and hats, walk to St George's Chapel.
There are no new appointments to the order this year.
The Queen's long train was held off the ground by two pages of honour as she and Philip were last to go into the Chapel.
Recipients of the honour of joining the order are chosen because they have held public office, contributed to national life or served the sovereign personally.
The Knights of the Garter - strictly limited to a maximum of 24 people, plus Royal Knights - are appointed by the monarch, without consulting ministers.
Members include former prime minister Sir John Major and Marshal of the Royal Air Force, The Lord Stirrup.
The Order of the Garter service takes place every June on the Monday of Royal Ascot week, known as Garter Day.
It was founded by Edward III in 1348 and is the oldest British order of chivalry.