ReadyBike hire scheme deemed a success by council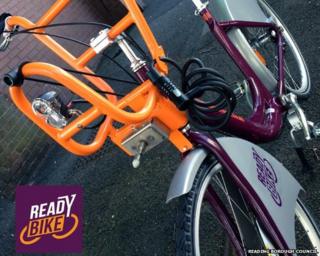 A bike hire scheme in Reading is "proving popular" a year after its launch, the organisers have claimed.
An average of 72 trips a day are being made using ReadyBike's 200 available bicycles, according to figures from Reading Borough Council.
Tony Page, lead member for transport, said he was pleased with the numbers.
However Adrian Lawson, of Reading Cycling Club, called the numbers "very small" and said cycling was not popular in the town centre.
There are currently 221 annual subscribers signed up to the scheme which was funded with £1.2m of the Local Sustainable Transport Fund.
The council estimates users have covered 130,000 miles since the bikes became active on 10 June last year.
'Lack of cycling'
Mr Page said they were commonly used by students and commuters "for relatively short journeys in and out of the town centre".
Sir David Bell, vice chancellor of the University of Reading, agreed it was "hugely successful" with students.
"[We're] extremely pleased that university staff and students are making good use of the bikes, both on and off campus," he said.
But cyclist Mr Lawson said: "When they say it's 130,000 miles a year, it sounds like a lot, but in reality it's very small.
"The road layout, the lack of signing and the lack of cycling infrastructure is such that cycling isn't popular in the town centre."
The scheme features 29 docking stations across Reading and the borough. Across the first year some 26,330 bike rentals were made by 7,370 users.