Royal opening for Eton school extension and gallery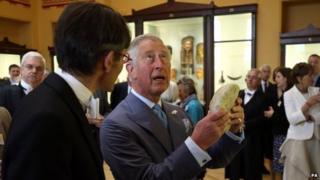 A collection of Egyptian artefacts held by Eton College has been made available for public view with the opening of a new gallery.
Prince Charles opened the Bekynton Field Development, which includes 40 new classrooms and a new Eton Museum of Antiquities.
It will display artefacts given to the school over the centuries.
Head master Tony Little said: "It's wonderful to have a place where people can visit."
The new building is the biggest addition to the Berkshire public school since it was founded in the 15th Century.
It includes facilities for the school's modern languages, politics, economics and divinity departments as well as a 300-seat lecture theatre.