Roman coin hoard unearthed at Reading primary school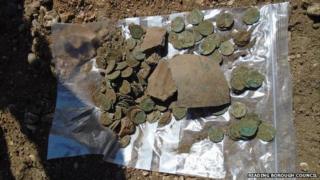 A hoard of Roman coins has been unearthed in the grounds of a primary school in Reading.
A pot with up to 300 coins was discovered during an archaeological exploration of the site before The Ridgeway School's redevelopment works.
Experts believe the container was buried by a Roman citizen or farmer for safe keeping, possibly during a time of crisis or threat.
Once assessed, there are plans to display the coins at Reading Museum.
Head teacher Madeleine Cosgrove said: "Both pupils and staff are very excited about this discovery and look forward to the story unfolding so that it can be preserved as part of the heritage of The Ridgeway School."
Investigations have shown there was probably a small Roman farm or hamlet on the site, which was preceded by late Bronze Age activity around 1,000 to 800 BC.
The pot, coins and any other artefacts found during the archaeological dig at the school belong to the landowner, Reading Borough Council, and fall under the requirements of the Treasure Act 1996.