Human trafficking raids in Reading, Wokingham, London and York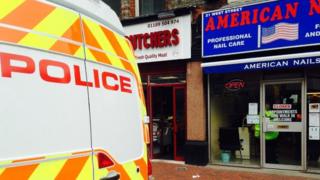 Police have raided nail bars and other properties in Berkshire, London and Yorkshire as part of a human trafficking clampdown.
Officers made arrests and recovered victims after an 18-month investigation known as operation Rehoboam.
Det Ch Insp Rebecca Mears from Thames Valley Police, the force that led the operation, said the aim was "to protect vulnerable people".
She added victims were being looked after in rest centres.
More than 150 officers executed the warrants at three nail bars and three addresses in Reading, two nail bars and two addresses in Wokingham, one address in West Berkshire, five addresses in London and one nail bar in York.
The force was supported by the Metropolitan Police and North Yorkshire Police.
Det Ch Insp Mears said: "It is a criminal offence to traffic people into the UK.
"It is an offence to force people, by threats or coercion, to work unpaid or to pay off a debt.
"It is an offence to make people carry out acts against their will."