WW1 Victoria Cross hero Fred Potts statue unveiled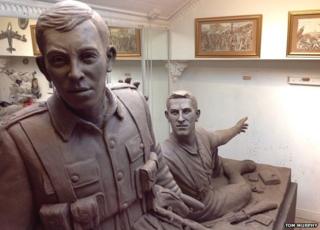 A statue of a solider who won the Victoria Cross for bravery in World War One has been unveiled for his family.
The Trooper Potts VC Trust raised the £150,000 for a memorial to Fred Potts, who was recognised for rescuing a comrade during the Gallipoli campaign.
His family went to Liverpool, from home in Reading, to view Tom Murphy's sculpture before it is cast in bronze.
Granddaughter Anne Ames said: "I never knew my grandfather, but Tom has brought him to life."
She called the statue "extraordinary".
It will be officially unveiled in the town's Abbey Quarter in October.
Mr Murphy said it was a "very detailed" sculpture, with the inclusion of story-telling items such as the biscuits from Reading biscuit makers Huntley & Palmers and the water bottle that "Fred went looking for while they were coming back" because they were running out.
'Looks terrific'
Trust chairman Richard Bennett said the statue "has been a long time coming", from an idea in 2009 to a major fund-raising campaign that led to the life-sized sculpture six years later.
"It really looks terrific," he said.
Fred Potts and Arthur Andrews were injured during the Gallipoli campaign in August 1915, and hid below the Turkish trenches for two days.
Eventually Trooper Potts, who had been shot in the thigh, used a shovel as a sledge to drag badly-injured Trooper Andrews to safety.
The memorial will include a bronze roll of honour board, listing the 400 members of the Berkshire Yeomanry who lost their lives during the 20th Century.
The great-nephews of Arthur Andrews - Philip and Robin Andrews - have donated £10,000 towards the cost.