Disabled ex-priest sues drugs company Novartis for £1m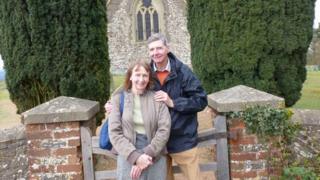 A man who suffered brain damage after taking part in a drugs trial is to sue a pharmaceutical company for more than £1m.
Former priest Adrian Hailer, from Slough, took part in a clinical trial in 2012 of medication developed for patients with a bone marrow condition.
By the end of the year the 76-year-old had suffered brain injuries his lawyers claim were linked to the drug he took.
Drugs company Novartis said it would contest the legal claim.
It said it had been "unable to establish a causal relationship" between the trial and Mr Hayler's illness.
The trial at Hammersmith Hospital involved taking ruxolitnib, known as Jakavi, which aims to treat myelofibrosis, a bone marrow disorder that disrupts the body's normal production of blood cells.
The drug was later approved by the European Union in August 2012.
'Frankly astonishing'
Mr Hailer's lawyers said he began suffering from confusion and memory loss two months after starting the trial.
By the end of 2012 he had sustained brain damage, which has left him partially paralysed, blind in one eye and unable to care for himself.
The brain damage was caused by progressive multifocal leukoencephalopathy (PML), a viral infection of the brain his lawyers claim was caused by the trial drug.
Mr Hailer's wife Maggie said his condition required 24-hour-a-day care.
Gene Matthews, partner at Leigh Day lawyers, said: "Novartis has a duty of care towards patients who voluntarily participate in clinical trials of their drugs and their refusal to engage in meaningful negotiations with Mr Hailer is frankly astonishing."
Mr Hailer's lawyers added the legal claim would be filed in the High Court within the next couple of weeks.
A spokesman for Novartis said: "Based on a detailed assessment of the medical evidence, including a review by external medical experts, Novartis is unable to establish a causal relationship between Mr Hailer's development of PML and his participation in the trial.
"As a result, Novartis intends to contest the legal case brought by Mr Hailer."