Magna Carta River Thames boat pageant open for registration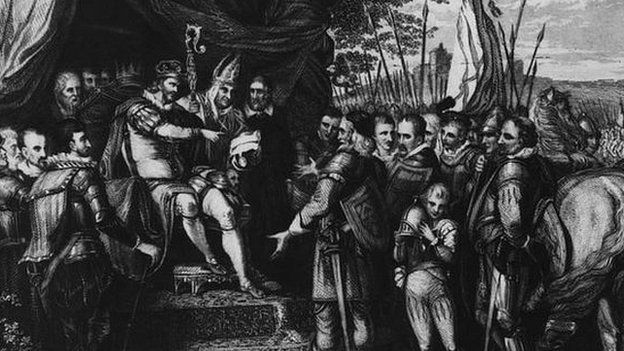 A Magna Carta 800th anniversary boat pageant on the Thames is open for registration, organisers say.
A flotilla of boats will sail in a two-day relay from Hurley riverside in Berkshire to Runnymede Pleasure Ground in Surrey on 13 and 14 June.
The pageant will recount the story and carry a copy of the Magna Carta created by children from the Windsor and Maidenhead borough.
The deadline for registering crafts is 28 February 2015.
Thames Alive is helping to organise the event, the group behind the Queen's Thames Diamond Jubilee Pageant in 2012.
The organisation said: "Stopping at various points on the way we recount the story of the Magna Carta and hand over the responsibility of carrying the document to a new relay bearer who will be on board the Royal Shallop Jubilant and escorted by rowed craft."
Malcolm Knight, from Thames Alive, said on the second day of the event there would be a pageant called 800 Years of Boating in which hundreds of historic craft are invited to take part.
The Magna Carta outlined basic rights with the principle that no-one was above the law, including the king
It charted the right to a fair trial and limits on taxation without representation
It inspired a number of other documents, including the US Constitution and the Universal Declaration of Human Rights
Only three clauses are still valid - the one guaranteeing the liberties of the English Church; the clause confirming the privileges of the city of London and other towns; and the clause that states that no free man shall be imprisoned without the lawful judgement of his equals
The British Library has two copies of the 1215 Magna Carta
Source: The British Library
There will also be ferry service across the Thames between Runnymede Pleasure Grounds and Ankerwyke in Wraysbury, Berkshire where the ruins of the Benedictine St Mary's Priory and a 2,500-year-old yew tree can be found.
Some believe this is the location of the actual sealing but no record exists of exactly where it took place.
Related Internet Links
The BBC is not responsible for the content of external sites.