'Tent man' makes U-turn and resumes challenge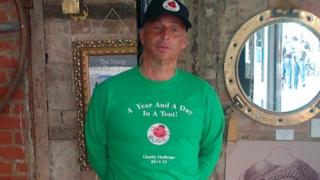 A father has resumed a bid to live in a tent for a year-and-a-day after temporarily abandoning the challenge.
Former severe burns patient, Mike Barton, 46, pulled out of the feat on New Year's Eve after 305 days so he could be reunited with his family.
But after discussions with his daughter and friends he has restarted the charity challenge.
Mr Barton, from Newbury, Berkshire, moved into his tent in March to raise awareness of fire prevention.
He said: "I gave up my life at great cost to promote something I believe is important, but my family comes first."
But after making a U-turn, he said despite reaching more than 366 days in the tent including winter trials he wanted to achieve the official target due to end on 2 March.
Aged four, a third of his body was burned in a blaze at his family home in Bolton.
Mr Barton has been staying in his tent at campsites and on private land.
During his challenge, his tent has been flooded and he was also robbed having his laptop and two phones stolen.
He is raising money for burns units at the Royal Manchester Children's Hospital and the Odstock Centre in Salisbury.