Ufton Nervet St Peter's church bells ring after 15 years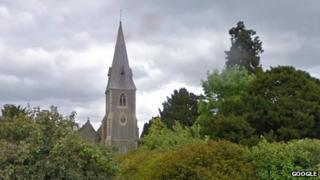 The bells of a redundant Victorian church in Berkshire have pealed again for the first time in exactly 15 years.
The bells of the former Church of St Peter's in Ufton Nervet, near Reading, were last rung at 12:00 GMT on 1 January 2000, to mark the Millennium.
The building has since been turned into a community centre by the St Peter's Ufton Charitable Trust.
Bell ringers cleaned the tower and the four bells so they could be rung again at the same time on New Year's Day.
The trust wants the centre, called The Spire, to become a venue for concerts, meetings, exhibitions and exercise classes.
New owners
The Reading branch of the Oxford Diocesan Guild of Church Bell Ringers spent the summer cleaning out the bird debris, installing bird screens and putting the bells back into working order.
Branch representative, Len Palfrey, said: "Bell ringers, in general, are all interested in making sure bells continue to be rung wherever possible.
"We take a keen interest in the 28 towers in the branch that have ringable bells.
"When the church was declared redundant, we were eager to work with the new owners of the building to ensure that the bells could continue to be rung."
The branch paid for the bird screens and St Mary's, in Thatcham, donated four, secondhand ropes.