Reading Borough Council moves to new building in Bridge Street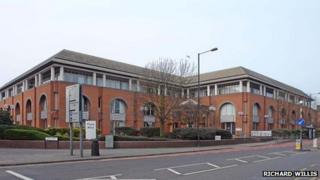 Reading Borough Council staff have moved into a new building ahead of the demolition of their former offices.
Nearly 1,000 staff members who were based in the 1970s-built Civic Centre moved into new offices in Bridge Street earlier.
The council said the £25m move was cheaper than the £100m work which would have been needed at the Civic Centre.
The smaller offices reflect the 600 job cuts the council has made since 2010. All phone numbers remain the same.
The council said the Civic Centre was "at the end of its design life" and was built using asbestos in some areas, which made it increasingly expensive to maintain.
The 15-storey centre has now shut in preparation for demolition and the wider regeneration of the area.
The Bridge Street offices, with three floors, is nearly half the size.
Council leader Jo Lovelock said the new offices would be "significantly cheaper to run" and would be "around 75% more energy efficient".
Redevelopment plans for the site were announced in 2012.