Royal Berkshire Hospital told to take action over data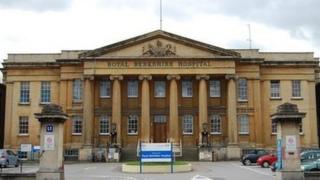 A hospital trust must take action to improve its financial position and how it is run, a health watchdog has said.
Monitor began a probe last month over mismanagement of patient waiting time data and has found the Royal Berkshire Hospital NHS Foundation Trust to be in breach of its licence.
It wants the hospital to eliminate its deficit and improve its data and the way senior staff monitor care.
The trust said it recognised that issues needed to be addressed.
Monitor regional director Paul Streat told the BBC that better organisation was needed "across the board" at the hospital in Reading.
He said part of the problem with the waiting time data is logging errors on the hospital's new £28m computer system.
The hospital has an annual budget of more than £300m and has a predicted £3m deficit over the coming year.
"We want to see it making money and putting that money back into the services it gives to patients," Mr Streat said.
"So making sure they are not spending money where they shouldn't be and they are keeping that money focused on the services they provide is really important."
Jean O'Callaghan, Royal Berkshire NHS Foundation Trust chief executive, said the trust was "already aware" of the issues of concern and was "working on all of those matters".