Crossley the dog sniffs out stolen school sports equipment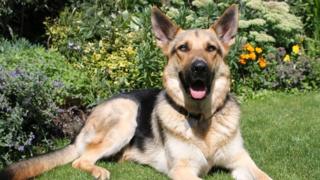 Bags of stolen sports equipment were found beneath a tree when a dog sniffed out the goods on its morning walk.
The athletics equipment was taken from a school in Gorse Ride South between 28 and 30 November.
On Wednesday five-year-old German Shepherd Crossley was on a walk in California Country Park when it smelled something in the trees.
When the dog's owner Mike Rees followed, he found five or six bags of sporting goods.
'Sniffing around'
Mr Rees, from Finchampstead, said: "We were on our usual morning walk when something suddenly caught his attention in the trees alongside the path, so I said 'go ahead and see', and off he went.
"He was in there sniffing around for quite a while so eventually I went in and had a look. I saw there were five or six bags of sports equipment discarded in the trees."
Mr Rees did not have his phone on him to contact police, so he visited the nearby school where he had guessed the PE equipment was from.
"When I got to the school, a police community support officer happened to be there.
"I mentioned it to her and she confirmed there had been a burglary at the school about a week ago.
"So with the school caretaker we went down to where the bags were and he was delighted to find that it was the school's stolen equipment."
The majority of the stolen haul was recovered.