Windsor calorie-burn "Walk Wise" signposts installed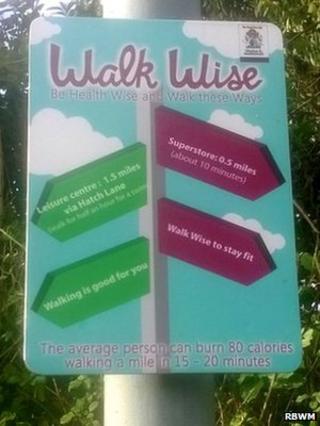 Signposts showing how many calories will be burned by walking to a destination instead of driving have been installed in Windsor.
The "Walk Wise" signs have appeared area after local resident Karen Appleton came up with the idea.
The signs also show directions and routes to points of interest, as well as the distance to them.
Ms Appleton said: "As a dog owner I know only too well the benefits of walking."
She added: "I hope that the signs will be a great motivator for other residents to follow suit."
The eight signs cost about £400 in total and were funded by money set aside for 2013's Bright Idea challenge prize organised by the Royal Borough of Windsor & Maidenhead.
Geoff Hill, Conservative cabinet member for highways and transport, said: "These signs are a fantastic way for people to find out a bit more about their local area.
"Far too often we rely on cars to get from one place to another, without realising that we can get to places relatively quickly on foot or by cycling."
The signs can be found on lampposts in locations including Windsor Girls' School, Windsor Leisure Centre, Albert Road/Long Walk and by the Dedworth Road shops.