Pond search in Catherine Nee disappearance investigation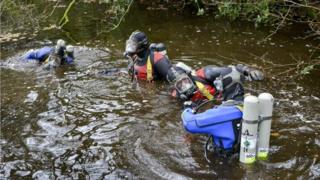 Police have been searching ponds in Berkshire in connection with the disappearance of a woman 12 years ago.
Thames Valley Police officers have been searching two ponds in wooded areas of Burghfield as part of the investigation into Catherine Nee's disappearance.
She was last seen by her family in 2002 when she was 32 and was living at the time in Ilfracombe, Devon.
The force said it was searching for items which may help the investigation after it discovered new information.
A missing person investigation was launched on behalf of Ms Nee's family in 2012.
Det Insp Kev Mahon, from the force's major crime unit, said the family had made unsuccessful attempts to find her and had "constantly wondered what happened to her".
He said: "They turned to Thames Valley Police for our assistance in 2012 to try and trace her and our investigation has led us to this point.
"We do not know what we may find, but the hope is that we will discover items relating to Catherine's disappearance."
Police said she was originally from Reading and still had family and connections in the area, where she was known by some as Kathy.