School defibrillators called for by Wokingham mum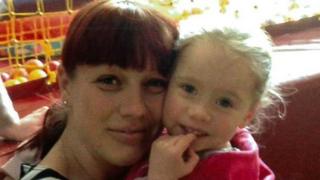 The mother of a five-year-old girl who died from heart failure says schools must act to buy life-saving equipment.
Claire Page has been campaigning for defibrillators to be installed in schools, after the death of her daughter Lilly-May six months ago.
The Department for Education struck a deal earlier in the year for 500 affordable defibrillators to be made available to schools.
Ms Page, from Wokingham, Berkshire, is urging schools to take up the offer.
She said: "With Lilly-May if there was a defibrillator available it would certainly have increased her chances of survival.
"The biggest thing is actually raising the awareness, because so many people are scared of using a defibrillator. They don't understand how it works."
'Potentially life-saving'
Ms Page added: "I lost my daughter that day which is why I am trying to raise awareness.
"Children spend the majority of their lives at school and no-one should have to go through what I did - to drop their child off at school and they don't come home."
Rory Davies, the paramedic who tried to resuscitate Lilly-May, said defibrillators were easy to operate and people should not worry about using them.
He said: "It takes just 10 minutes to change someone's opinion from not wanting to use one to using one, because it is that simple."
Speaking earlier this year, Schools Minister Lord Nash said: "By securing defibrillators at a reduced price, schools will find it much easier to install these potentially life-saving devices.
"We hope schools right across the country will take advantage of this."