Slough conference aims to tackle Muslim radicalisation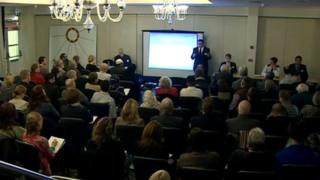 An event has been hosted by Muslims in Slough aiming to combat radicalisation.
Zafar Ali, chairman of governors at a primary school and head of Slough Faith Partnership, organised the conference with schools and officials in the area.
"Bring it on, because we have to stand up," he said. "The time has gone now for debating this behind closed doors."
Police believe 12 people have visited Syria from Slough and 11 have returned. It is believed they travelled to help humanitarian efforts.
Mr Ali, chairman of governors at Iqra Primary School, told the 70 invited attendees that "impressionable" youngsters were being targeted at religious gatherings.
"That's the beginning of the journey, and that journey leads to more meetings on a more enclosed basis.
"We have to encourage children to have the right to disagree, but to engage that disagreement within the democratic process."
---
At the scene: Duncan Kennedy, BBC News
Slough has decided to stand up to the extremists.
For the first time anywhere in Britain ordinary people have come together to fight Islamic radicalism, everyone from teachers to taxi drivers.
It's already too late for around 500 British people who have gone to fight in Syria and Iraq but here extremists are being challenged by moderates.
They say radicalism has no place here.
---
One young Muslim, who did not want to be identified, said he had been approached by extremists to join their cause.
"They would use leaflets," he said. "They would use flyers. They would hold talks. They would gather outside a mosque. If you disagree with them, they are very confrontational.
"They would see what you are like, if you are easy to mould.
"If you have no-one else to listen to, and only this is going in your ear, then it's going to affect you."
Jonathan Russell, of the Quilliam Foundation think tank, said radicalised youths often experienced racism, disagreed with British foreign policy, or were suffering from an "identity crisis".