Magna Carta River Thames pageant announced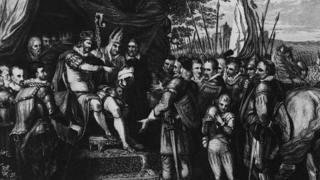 A "spectacular" river pageant on the River Thames has been announced to celebrate the 800th anniversary of the sealing of the Magna Carta next year.
A flotilla of boats will sail from Bisham Abbey to Wraysbury in Berkshire on Saturday 13 and Sunday 14 June.
Thames Alive is helping to organise the event, the group behind the Queen's Thames Diamond Jubilee Pageant in 2012.
The Royal Borough of Windsor and Maidenhead said: "The world's eyes will be on us in June next year."
Berkshire will be part of the celebrations as the sealing of the Magna Carta took place just over the border at Runnymede in Surrey.
Magna Carta Island is within the borough, as are the ancient ruins of a Benedictine priory and a 2,500-year-old yew tree at Ankerwycke, which were both standing at the time of the event in 1215.
The council said this area - now looked after by the National Trust - could have been the actual venue of the sealing as no record exists of exactly where it took place.
However Runnymede is the accepted site.
---
What is Magna Carta?
The Magna Carta outlined basic rights with the principle that no-one was above the law, including the king
It charted the right to a fair trial and limits on taxation without representation
It inspired a number of other documents, including the US Constitution and the Universal Declaration of Human Rights
Only three clauses are still valid - the one guaranteeing the liberties of the English Church; the clause confirming the privileges of the city of London and other towns; and the clause that states that no free man shall be imprisoned without the lawful judgement of his equals
The British Library has two copies of the 1215 Magna Carta
Source: The British Library
---
Wraysbury Parish Council chair Margaret Lenton said: "While the main focus will inevitably be on Runnymede, the pageant and many other events will highlight the key role in the sealing of the Magna Carta on this side of the river."
The event, which is being funded by sponsors and underwritten by the borough, will be available for people to view from the riverbank as boats of all shapes and sizes make their way downstream.