Arrest in stab and dog-bite attack on Britwell Estate, Slough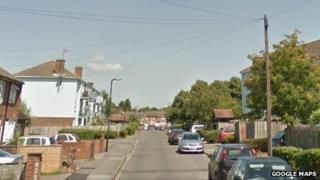 A man was stabbed and then bitten by a "pitbull-style dog" on an estate in Berkshire.
The 19-year-old was attacked on the Britwell Estate, Slough on Thursday and was airlifted to hospital, where he remains in a serious condition.
He was attacked after being approached by three males with the dog in Odencroft Road at 16:20 BST.
A 16-year-old boy was arrested on suspicion of attempted murder in Hounslow on Friday.
Thames Valley Police officers are appealing for witnesses and officers are carrying out extra patrols in the area.