Living wage concerns at Windsor Castle royal farm shop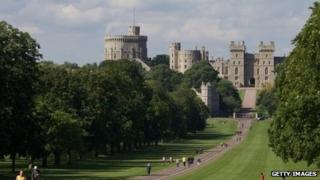 Campaigners have urged a farm shop on the Queen's Windsor Castle estate to introduce the living wage for staff.
The shop advertised jobs at £6.55 an hour - more than the legal minimum wage but below the voluntary living wage.
The Living Wage Foundation, which promotes the concept, said employers should go "above and beyond" the minimum wage.
Buckingham Palace said pay "matches the market median" and staff had a 15% non-contributory pension and a daily lunch.
A statement said the salary was also progressive, meaning employees who stayed could expect the salary to increase over time.
The living wage is based on the amount an individual needs to earn to cover the basic costs of living.
It is now set at £8.80 an hour in London and £7.65 an hour in the rest of the UK.
Sarah Vero from the Living Wage Foundation said she would encourage the royal shop to look at the living wage.
"The economy is starting to recover now and lots of people are seeing benefits, and tourism hopefully is going to be part of that. At the same time the cost of living is going up," she said.
More than 900 employers and local authorities have already signed up to the living wage, including Nationwide Building Society, Barclays, Nestle and ITV.