Ufton Nervet rail crash: Why is level crossing still open?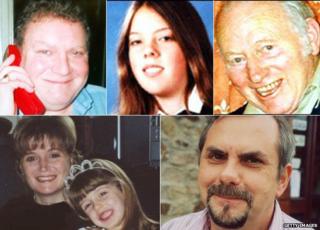 Ten years ago seven people were killed when a train collided with a car parked on a Berkshire level crossing. Now survivors of the disaster are asking why, despite another death there last month, the crossing has still not been closed.
It was one of the UK's worst railway crashes of the past 25 years and the last time more than one passenger died in a single rail incident.
On 6 November 2004 a busy train struck a car parked by a suicidal man on the Ufton Nervet level crossing, killing seven and injuring more than 100 people.
The disaster contributed to the closure of hundreds of level crossings and safety improvements to train windows. But 10 years after the crash, the Ufton Nervet level crossing has been neither closed nor changed.
Julie Lloyds had rushed to get the train home from London Paddington to get to her grand-daughter's birthday party in Newbury.
She normally took the window seat, but on that day she sat by the aisle. It is a decision she believes saved her life.
Less than an hour into her journey, the 17:35 First Great Western London Paddington to Penzance service crashed.
"All of a sudden there was a screeching of the brakes and you could feel it," Ms Lloyds, now 61, said. "That's a noise I still don't like."
The carriage juddered and the lights went out. "Then all I know is I'm hanging in a very precarious position and we're moving," added Ms Lloyds.
"At that stage I hate to say, it felt smooth. We had gone on to the other line's tracks.
"I still think if I had been sat next to the window I'm damn sure I wouldn't have been here. I still don't know why I didn't sit next to the window because I always did."
Jane Hawker, 56, had recently moved to Newbury from Bath. She had been to an exhibition at Tate Britain with a friend and remembers choosing the 17:35 London Paddington train because it was the fastest.
The pair had been looking at an envelope of photos together when they felt a "jolt".
"We looked at each other and said 'that doesn't feel right'," she said.
"I've never been on a roller coaster but the memory I have is going right up in the air and over.
"It felt like being in a tumble dryer, feeling as though I was being flung around, hitting various things.
"Each time I hit something I thought 'I've survived that, I wonder what will happen with the next one'.
"I did assume I would die. I remember thinking my children were at an age where they would be ok.
"It's not quite that your life flashes before you but you think if I go now this, that or the other will have happened."
The crash had been caused by Brian Drysdale - a 48-year-old chef at the nearby Wokefield Park Hotel who had parked on the level crossing and turned the lights off.
When train driver Stan Martin spotted him he had just seconds to apply the emergency brakes. The train was travelling at 100 mph, though, and an inquest into the deaths heard there was nothing he could have done to prevent the disaster.
All eight carriages derailed before the train came to rest about a quarter of a mile from the crossing.
Mr Drysdale, Mr Martin and four passengers were killed in the crash and a fifth passenger died in hospital the next day.
'Tormented mind'
Brian Drysdale had been waiting for the results of an HIV test when he parked his car on the Ufton Nervet level crossing and turned the lights off.
He died instantly when the First Great Western train struck his car.
The inquest into the deaths heard he had been a mentally unstable man, tormented by his sexuality.
He died without learning he did not have the disease.
An inquest jury concluded the driver and five passengers were unlawfully killed by Mr Drysdale, who had committed suicide.
In the aftermath of the crash, victims called for rail safety improvements and changes to the Ufton Nervet crossing.
Laminated windows became standard on trains and since 2010 Network Rail has closed hundreds of level crossings for safety reasons.
But no changes had been made to Ufton Nervet's crossing until Network Rail announced in 2012 its preferred plan was to replace it with a bridge.
Victims welcomed the news as "better later than never" but then little was heard. When another person died on the crossing last month - the fourth since the 2004 crash - the rail operator admitted a new bridge had stalled as it would cost "significantly more than anticipated".
But on Wednesday, the eve of the anniversary, Network Rail indicated a shift in stance with work on a new bridge now set to start "very shortly".
To victims of the crash it is difficult to understand why the crossing remains open and unchanged when hundreds of others have closed.
Anna Webster, whose 14-year-old daughter Emily was killed in the 2004 crash, said she was "astounded" it was still operating.
"People can be complacent about trains, but if an accident happens and it affects you it's going to disrupt the whole of your life," she said.
"Ten years have gone by. How many more years do we want to wait? It's not good enough."
Her husband Peter, who survived the crash, agrees.
"It is unfortunate that in this climate there is not a more impartial enforcement procedure which should recognise, based on all reasoned argument, that there is no place at all for this type of crossing on the high speed network, period," he said.
"It should be closed until it is addressed properly."
Network Rail estimates that replacing level crossings with bridges costs on average £1m.
Transport consultant Christian Wolmar said with Network Rail managing thousands of level crossings on private and public land it had to assess how busy the crossing is and how many trains pass through it.
Ufton Nervet is a small village with a population of just under 300, according to the 2011 census. Yet this is partly why people have killed themselves there, Mr Wolmar said.
The shock of the disaster may have lost its intensity but the trauma lingers in different ways. Mrs Hawker does not travel by train and feels uncomfortable on planes while Mrs Lloyds is still visibly upset at discussing the crash.
Both have found comfort in their friendship and in tending the Ufton Nervet memorial garden.
For both of them, the safety risks at the crossing are a constant source of concern. Both explained while they understood a bridge would be expensive they did not see why safety alterations, such as object detection technology or changing the crossing from a half to full crossing, had not been made.
"Every time you see that headline you think how many more people have to die?," said Mrs Hawker. "A road bridge would be a dream come true for me because I would not have to worry about something happening there again."
Network Rail has said it is at the "crucial point" of its plans to replace the crossing with a bridge.
But while the level crossing exists in its current form, victims all fear another disaster could happen again.
"There will always be people that need help," Mrs Webster said.
"I feel sorry for Brian Drysdale. He should never have been able to get on to the level crossing.
"People's lives have to come first."
The people who died
Barry Stevens, 55, from Wells, Somerset
Anjanette Rossi, 38, from Speen, Berkshire
Her nine-year-old daughter Louella Main
Train driver Stanley Martin, 54, of Torquay, Devon
Emily Webster, 14, of Doccombe, Devon
Charlie Matthews, 72, of Warminster, Wiltshire
Brian Drysdale, 48, of Reading, Berkshire