Duke of Marlborough's death announced by Blenheim Palace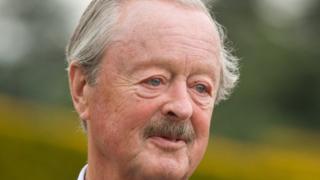 The Duke of Marlborough has died, Blenheim Palace has announced.
John Spencer-Churchill, the 11th Duke of Marlborough, "passed away peacefully" early on Thursday morning, a Palace spokesman said. He was 88.
The Unesco World Heritage Site remains open as usual, "as per his wishes", the spokesman added.
The duke's Blenheim Palace home was built in the 18th Century as a gift to the first duke, John Churchill, and was the birthplace of Winston Churchill.
John Churchill was the military commander who led the Allied forces in the Battle of Blenheim.
'Unceasing struggle'
Prime Minister David Cameron, who as the member for Witney in Oxfordshire was the duke's local MP, has paid tribute, calling him a "good man and friend".
He added: "His Grace will be deeply missed by all those he worked alongside at Blenheim and by the town of Woodstock where he played such a positive and active role in the community he loved."
The 11th duke, who married four times, is succeeded in the title by his son Jamie Spencer-Churchill, the Marquess of Blandford.
He is one of the duke's four surviving children, two from his first marriage to Susan Hornby, and two from his third marriage to Rosita Spencer-Churchill.
The duke married his fourth wife Lily Sahni in 2008.
The Blenheim Palace estate is one of Britain's most notable tourist attractions and it was the duke's life's work to preserve it for future generations.
"Although the Battle of Blenheim was won in 1704, the Battle for Blenheim continues in the unceasing struggle to maintain the structure of the building and to obtain the finance for the future,'' the duke once said of Blenheim.
He introduced the Pleasure Gardens to the tourist attraction, which includes a railway, maze, and butterfly house, as well as a Churchill Exhibition.
The house, which stands in 2,000 acres (809ha) of parkland, has 187 rooms, more than Buckingham Palace and Windsor Castle.
Blenheim opened to the general public in 1950, and has featured in films such as Gulliver's Travels and Kenneth Branagh's Hamlet.
The duke even had a cameo role in the Shakespeare adaptation, seen on horseback as the Norwegian Captain.
More recently, Blenheim hosted the UK's biggest exhibition of works by Chinese artist and dissident Ai Weiwei.