M4 lanes closure: Reading council want answers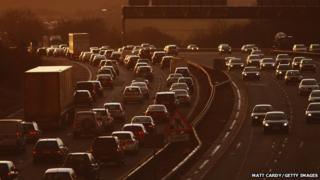 Reading council has demanded a meeting with the Highways Agency over M4 emergency roadworks that have caused "traffic chaos, confusion and mayhem".
The borough council's head of transport Tony Page called closing two lanes of the motorway hours before peak hour traffic "scandalous".
Traffic had backed up into central Reading on Monday as motorists could not leave motorway junctions.
The Highways Agency has yet to issue a comment.
'Height of irresponsibility'
Monday's severe traffic disruption was compounded by an accident on the M4.
But Mr Page said Reading was likely to be gridlocked again later because of the ongoing roadworks eastbound between junctions 10 and 11.
He said: "It is quite scandalous that the Highways Agency is dumping yet more traffic chaos, confusion and mayhem on Reading within 24 hours of the last closure of the M4 eastbound.
"Whilst yesterday's accident was obviously not the responsibility of the agency, a decision to close the motorway for emergency works just hours before the peak hour traffic in the Reading area is the height of irresponsibility.
"I am sure that the works could have been delayed until 19:00 or 20:00 to enable late night and overnight works to have been undertaken."
Drivers took to Twitter on Monday evening to express their frustration.
@JosieThomson24 wrote: "2hrs 25mins to get back from work! Should be 10 minutes!! #Reading #traffic #ridiculous."
@Priyanka_Mua wrote: "The traffic in Reading is an absolute joke! For a 15 min journey I've been stuck in traffic for over an hour."
Mr Page said: "The Highways Agency remains as ever remote and unaccountable and I will be demanding an explanation from the HA and Ministers as to why they have undertaken no consultation with Reading Borough Council prior to the decision to close the M4 for these engineering works."