Eleanor Brazil to head Slough children's services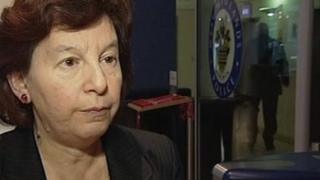 The woman brought into Haringey Council in the aftermath of the Baby P scandal has been chosen to rescue Slough's failing children's services.
Eleanor Brazil is to be appointed commissioner for social care in the Berkshire borough.
She will be in charge of establishing an independent trust on behalf of the government to run Slough's children's services department.
Slough Borough Council has not yet commented.
Ms Brazil's appointment follows a critical Ofsted report and a subsequent review of the council's children's services.
'Oversee improvements'
In a letter to borough council leader Rob Anderson, children and families minister Edward Timpson said the authority's proposals had not been enough to secure the necessary improvements.
He said: "I intend to appoint Eleanor Brazil as Commissioner for Children's Social Care in Slough.
"As commissioner, she will be responsible for establishing the independent trust and for overseeing improvement to services until the trust is fully operational."
The letter ends: "Our view is that you will need some additional capacity to engage fully in these next steps and limited funding will be available for this purpose, as well as for other reasonable set-up costs."
An Ofsted report published in February stated there were "serious failures" that left children "being harmed or at risk of harm".
The review found the council to be "reactive and focused on short-term rather than sustainable solutions".