Dappy nightclub punch sentencing adjourned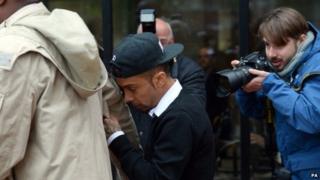 Former N-Dubz star Dappy has had his sentencing adjourned for punching a man in a row over a woman at a nightclub.
The singer attacked Devonn Reid, who told him to stop talking to his female friend and girlfriend, at Evissa in Reading on 6 October last year.
District Judge Davinder Lachhar sent the case to Guildford Crown Court for sentencing.
She said this was because Dappy was given a six-month suspended sentence at the court in 2013.
The singer, who was found guilty of the nightclub assault last month under his real name Costadinos Contostavlos, was given the suspended sentence after being convicted of affray and assault at a Guildford petrol station in 2012.
A judge will decide on activating the prison term after the Reading attack was committed while the singer was still serving the suspended sentence.
The 27-year-old, from Hatfield, Hertfordshire, held his hands out in prayer as the district judge at Reading Magistrates' Court gave her decision.
'Violent tendencies'
After being granted unconditional bail, he said "thank you madam".
As he left court he posed for a photograph with a young fan before telling reporters: "How do I feel? I'm free."
Ms Lachhar warned him that she was "thinking of a custodial sentence" before deciding to send the matter to the crown court.
She told the court: "This is a man who obviously has violent tendencies, to put it mildly."
Dappy's barrister Jon Harrison replied that his client "accepts he has issues surrounding confrontation".
During the trial, the court heard Mr Reid, a football coach, went to the nightclub to celebrate his 21st birthday with a group of about 15 friends.
He became aware of a man he recognised as Dappy having a conversation with a female friend Marie O'Reilly and later putting his arm around her.
Mr Reid said of the unprovoked attack: "He had just turned and hit me straight with his right hand... he had popped my nose."
Dappy was also fined £800 in June for slapping a man outside a nightclub in Chelmsford, Essex.