Consultation begins on 'rapid' Slough bus service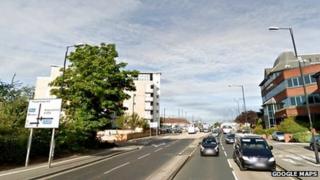 Residents and businesses are being asked for their views on plans for a "rapid" bus service along a busy commuter road in Berkshire.
The £8m scheme, known as SMaRT (Slough Mass Rapid Transit), was approved by the borough council on 15 September.
The proposals will involve widening the A4 and upgrades to several junctions.
The council said the aim of the scheme was to provide quicker, more frequent and reliable bus services. The consultation closes on 7 November.
Another major part of the plans involves turning service roads parallel to the A4 through Slough Trading Estate into bus lanes.
The council said the improved service would benefit residents, encourage greater use of public transport and support economic growth in the borough.
Savio DeCruz, head of transport for Slough Borough Council, said: "The A4 is a crucial link between Maidenhead, Slough and Heathrow, and improving bus times will play a major part in reducing congestion and increasing economic efficiency.
"The council has been offered financial support from the government's Local Growth Fund for SMaRT but before we go ahead with the scheme we want to make sure residents, businesses and others have the opportunity to have their say."
The consultation will ask people for their overall views, as well as specific questions about parking, one-way systems, bus stops and widening in certain roads.