Wokingham councillor Charlotte Haitham Taylor 'should stand down'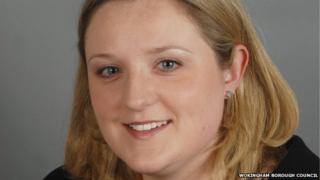 A Wokingham councillor who is planning to stand as an MP candidate in Durham has been called on to step down by some of her colleagues.
Opposition councillors say Charlotte Haitham Taylor will not have time to oversee children's services for Wokingham Borough Council while she campaigns for the Conservatives.
Clive Jones said Ms Haitham Taylor will be a "part-time" head of department.
However Ms Haitham Taylor said she is confident she can do both roles.
'Not good value'
Ms Haitham Taylor announced last month that she would stand in North West Durham and she has rented a house in the area.
She said: "I don't intend to stop doing my duties down here or do them any differently to how I would if I wasn't up in Durham."
However she was unable to say how much time she would spend there campaigning.
Mr Jones, Liberal Democrat prospective parliamentary candidate for Wokingham, said the seat is 240 miles away.
He said: "She would be a part-time head of children's services in Wokingham and we don't want that."
He added: "She is paid £16,000 a year as executive member for children's services and we are not getting good value for money anymore."
But Ms Haitham Taylor said: "I can understand why they might have concerns but I want to assure them that I absolutely prioritise my duties of lead membership for children's services.
"That is incredibly important to me. I will not desert my role in order to put my canvassing in North West Durham ahead of that."