Berkshire village flood defence scheme starts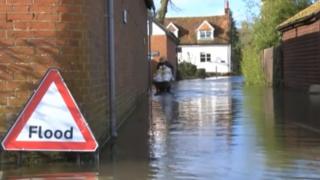 Work is to begin on a flood alleviation scheme to protect a village which has been inundated twice in a decade.
Villagers in Eastbury, in Berkshire, raised £60,000 towards the £400,000 work after the village flooded in February and in 2007.
An earth embankment and a flood storage area are aimed at restricting the flow of water and holding it back.
Resident Liz Goodman said it is hoped the scheme will protect the village "for generations to come".
Villagers raised money over three years through donations and fundraising activities.
The Greenham Common Trust also donated money to the project.
Ms Goodman said: "While it is recognised that there is never going to be a silver bullet to all flooding issues in Eastbury or the Lambourn Valley, we very much hope that this scheme will go a long way to help protect the village from certain types of flooding for generations to come."