Heathrow flight path: 'Relentless' noise for residents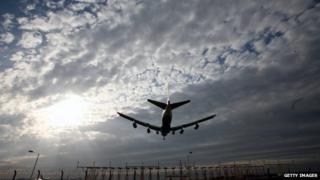 People living under flight paths being trialled by Heathrow Airport have spoken of the "relentless" noise.
More than 4,000 people living in Ascot, Bracknell and Sunningdale, in Berkshire, have signed a petition complaining about the six new routes.
A public meeting was held in Ascot on Tuesday to discuss complaints and one will be held in Bracknell later.
A Heathrow spokesman apologised for the noise and said the airport wanted to be a "good neighbour".
The trials are being driven by the government's Future Airspace Strategy (FAS) and are due to end in January.
Amanda Smerchak, who launched the petition, said: "It's relentless. It's heavy aircraft, 747s and 380s, bumbling along over our houses every five to 10 minutes.
"It's really changed the whole dynamic of what was a really peaceful, lovely, place to live."
'Totally opposed'
Ascot councillor David Hilton said turnout to the meeting was one of the biggest he had seen.
"There were a lot of people in this area who saw Heathrow as being a fairly benign place," he said.
"Now we have got an enormous group who would be totally opposed to a third runway."
Matthew Gorman, from Heathrow, apologised for the inconvenience.
"Clearly from some of the areas to the west of the airport we are getting a lot of complaints, and we absolutely care," he said.
"Heathrow is a big airport, it is important to the country, but it is also important that it is seen to be a good neighbour."