Councillor Lesley Hayward spared jail for benefit fraud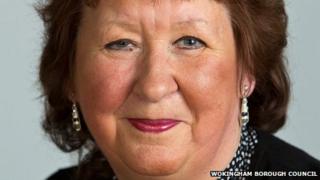 A councillor has received a suspended jail sentence after admitting benefit fraud totalling more than £44,000.
Lesley Hayward, who sits as an independent on Wokingham Borough Council, told the authorities she lived alone when she lived with her partner.
A four-month sentence was suspended for 12 months and she was ordered to pay £3,000 which has not yet been repaid.
Wokingham Borough Council said the case showed "those who break the rules are held to account".
Hayward, 63, of Kingfisher Drive, Woodley, previously admitted two counts of knowingly failing to declare a change in circumstances to the council and the Department for Work and Pensions and one of making a false statement to obtain Pension Credit.
The offences dated between 2004 and 2012 and she received a total of £44,593.23 benefit to which she was not entitled.
She represents the Bulmershe and Whitegates ward on the council and also sits on Woodley Town Council.
Julie Holland, service manager business improvement at Wokingham Borough Council, said: "It is regrettable that a councillor, of whom the highest standards of conduct are expected, has behaved in this way."