Dappy guilty of punching man in Reading nightclub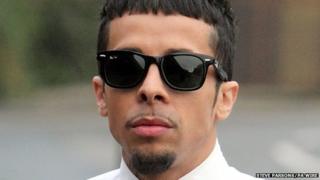 Former N-Dubz star Dappy has been found guilty of punching a man in a row over a young woman at a nightclub.
The 27-year-old singer attacked Devonn Reid, who told Dappy to stop talking to his female friend and girlfriend at the bar.
Reading Magistrates' Court heard the "unprovoked attack" happened on the dance floor at Evissa in Reading, Berkshire, on 6 October last year.
Mr Reid said bouncers grabbed Dappy, who denied assault, after the punch.
'Popped my nose'
Zainab Mohamed, prosecuting, said Mr Reid, a football coach, went to the nightclub to celebrate his 21st birthday with a group of about 15 friends.
She said: "He becomes aware of a male who, he says, he recognised to be a person called Dappy from a music group.
"He says that, because a male is having a conversation with his female friend, he intervenes and advises the defendant his actions are not appropriate.
"He says he is punched out of nowhere once in the face, causing bleeding to stream out of his nose.
The court heard Dappy had his arm around Mr Reid's female friend, Marie O'Reilly, before the fight broke out.
Mr Reid said of the alleged attack: "He had just turned and hit me straight with his right hand... he had popped my nose."
'Trying to please everyone'
Jon Harrison, defending, suggested to Mr Reid that he was drunk that night, that Ms O'Reilly had been talking with someone else and that another man had been the one to hit him.
Mr Reid replied: "No, I was hit before he went away."
Mr Harrison also questioned whether Mr Reid had made the allegation because Dappy is well-known, which Mr Reid denied.
Bouncer Sheriff Nybally, who was assigned to protect the singer at the nightclub, said in a statement read to the court that Dappy "was in good spirits all night and was trying to please everyone".
He said he was with Dappy throughout the evening but did not see who had thrown the punch.
Dappy, from Hatfield, Hertfordshire, appeared in court under his real name, Costadinos Contostavlos.