Mini Sherlock Holmes dolls' house book by Sir Arthur Conan Doyle published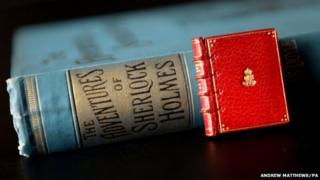 A miniature book handwritten by Sir Arthur Conan Doyle for a royal dolls' house has been published in its original size.
The Sherlock Holmes author wrote How Watson Learned The Trick for Queen Mary's dolls' house at Windsor Castle.
The 24-page book measures 38.5mm (1.52 inches) by 30mm (1.18 inches).
Holmes expert Roger Johnson said the publication of the little-known story was "genuinely exciting".
'Delightful little joke'
The book is among over 200 tiny books produced for the dolls' house library by some of the most famous authors of the early 20th century, including Thomas Hardy, Rudyard Kipling and Sir James Barrie.
The story, which would only make one-and-a-half pages in a normal-sized book, has been published in the past as part of a collection of works but this is the first time it has been released in its original miniature version.
Mr Johnson, editor of The Sherlock Holmes Journal and spokesman for The Sherlock Holmes Society of London, said the tiny book highlighted Conan Doyle's talent for comedy.
"Arthur Conan Doyle was, when he chose, a first-rate comic writer," he said.
He said there was a "good deal of wit" in his work including in the Sherlock Holmes stories.
In 1896, he wrote The Field Bazaar, a spoof of his own stories.
How Watson Learned The Trick, which sees Holmes' sidekick Watson unsuccessfully try his hand at detective work, is also a "self-parody", according to Mr Johnson.
He added: "Conan Doyle's delightful little joke isn't nearly as well known as it should be.
"So the news of this facsimile of the unique original is genuinely exciting."
The publication is part of the commemorations marking the 160th anniversary of the "birth" of his most famous character Sherlock Holmes, whose date of birth in the stories was January 1854.